Recycling construction/demolition waste with a Rockster R700S impact crusher to a 0/35 final product. Further on ist the end-product screened with a RSS410 scalper to a 0-2 mm as pavement beedding and 2-35 as mineral mix for substructure.
Company Horst Klöppner from Göttingen in Lower Saxony, Germany is now a proud owner of a Rockster R700S track-mounted impact crusher as well as RSS410 scalping screen. The efficient team is used for recycling demolition and construction debris as well as processing concrete and asphalt.
In 1964, Horst Klöppner started his own business as a pioneer in his business in the south of Göttingen. One employee supported him when he started his demolition and civil engineering company on an area of 3,000 square meters; Klöppner drove the truck, his colleague operated the excavator. In the late 1960s and early 1970s, the then 35-year-old had established his company and was able to expand step by step. Since 2000, constant cooperation with local companies has helped him expand his business. Even before his death († 2004) Horst Klöppner passed the company onto the next generation. His daughter Christine and son-in-law Matthias Grube run the company for five successful years. Since 2007, Reinhard Klöppner and his sister Christine Grube, born Klöppner, have continued this successful course.
The most compact Rockster impact crusher, R700S, has been in use at Horst Klöppner since June 2021. The crusher recycles various materials such as construction & demolition waste, asphalt, and concrete. Shortly after the R700S, the company also invested in the Rockster RSS410 scalper to increase efficiency and produce multiple end-product sizes.
R700S weighs only 19,9 tons and can be with ease and without transport permits moved from one to the other job site.
After the question why did the decision fall on the R700S Rockster crusher, a rather simple and fast answer came right away: "We rented the R700S to try it out and it met our expectations in terms of operation, consumption and performance. The machine is very easy and intuitive to use, " says Dennis Grube, 3rd generation and workshop manager. The R700S, being Rockster's most compact tracked impactor, weighs only 19.9 t without a screening system. Due to the optimal dimensions and the low weight, the R700S can be transported quickly and with ease from one construction site to the other . With a length of only 9.00 m, a width of 2.41 m and a height of 3.15 m, it can be moved without any transport permits, hence saving time and increasing profit.. The crusher guarantees increased ease of use thanks to the electronic multifunction control with color display, hydraulic gap adjustment and automatic, stepless regulation of the conveying speed. The versatile setting options ensure excellent final grain quality.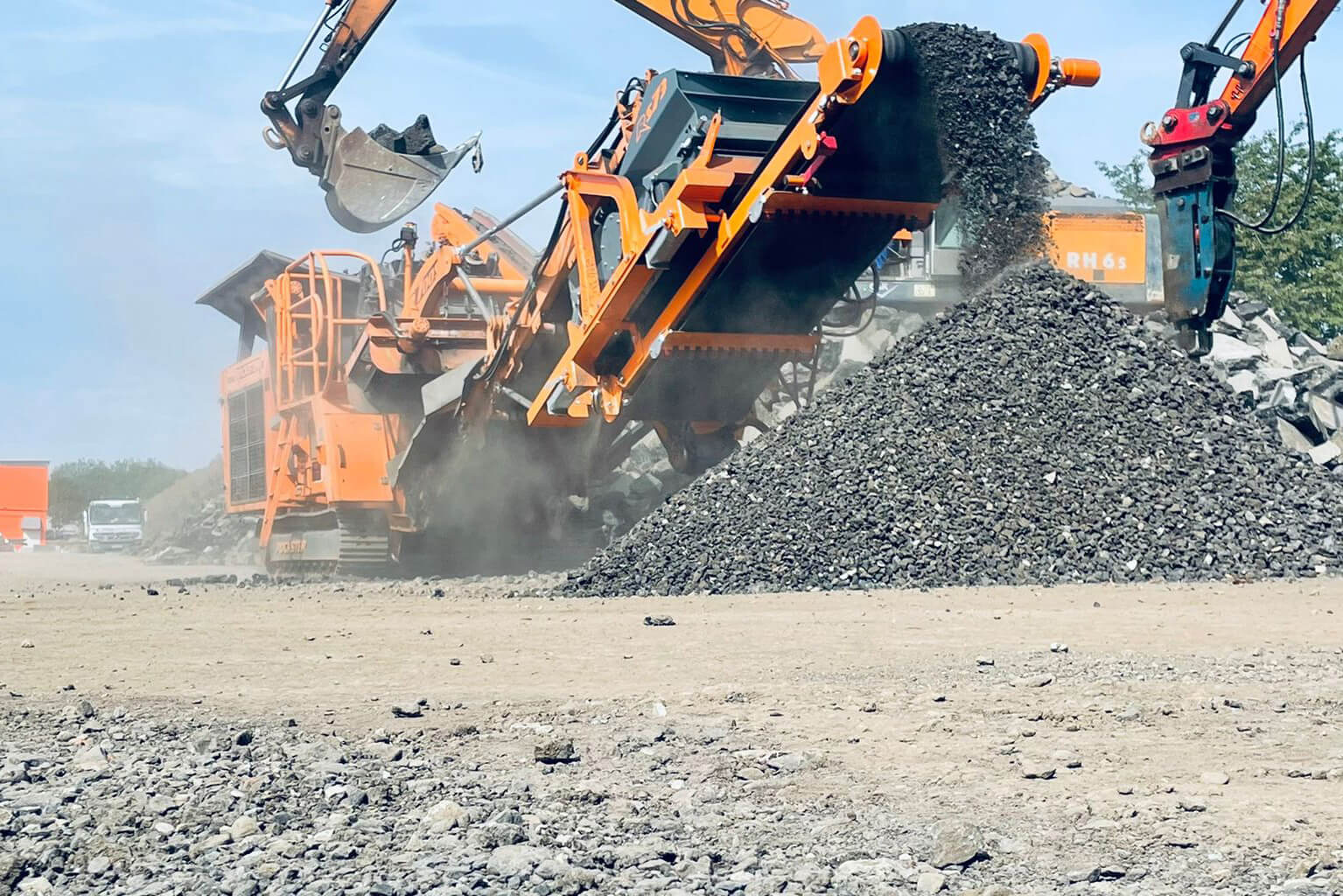 R700S Recycling asphalt. Feeding size <600mm is crushed to a final end-product of 0-35 mm.
Working together with the scalping screen opens up countless possibilities. 3 precisely defined end-products can be produced with the RSS410 screening plant. The scalper is optimal for small and medium-sized applications. It can be used to separate rubble, asphalt, concrete, brick, coal, metal and natural stone. The system offers the longest screen box (3.05m x 1.20m) in the Rockster compact screen segment.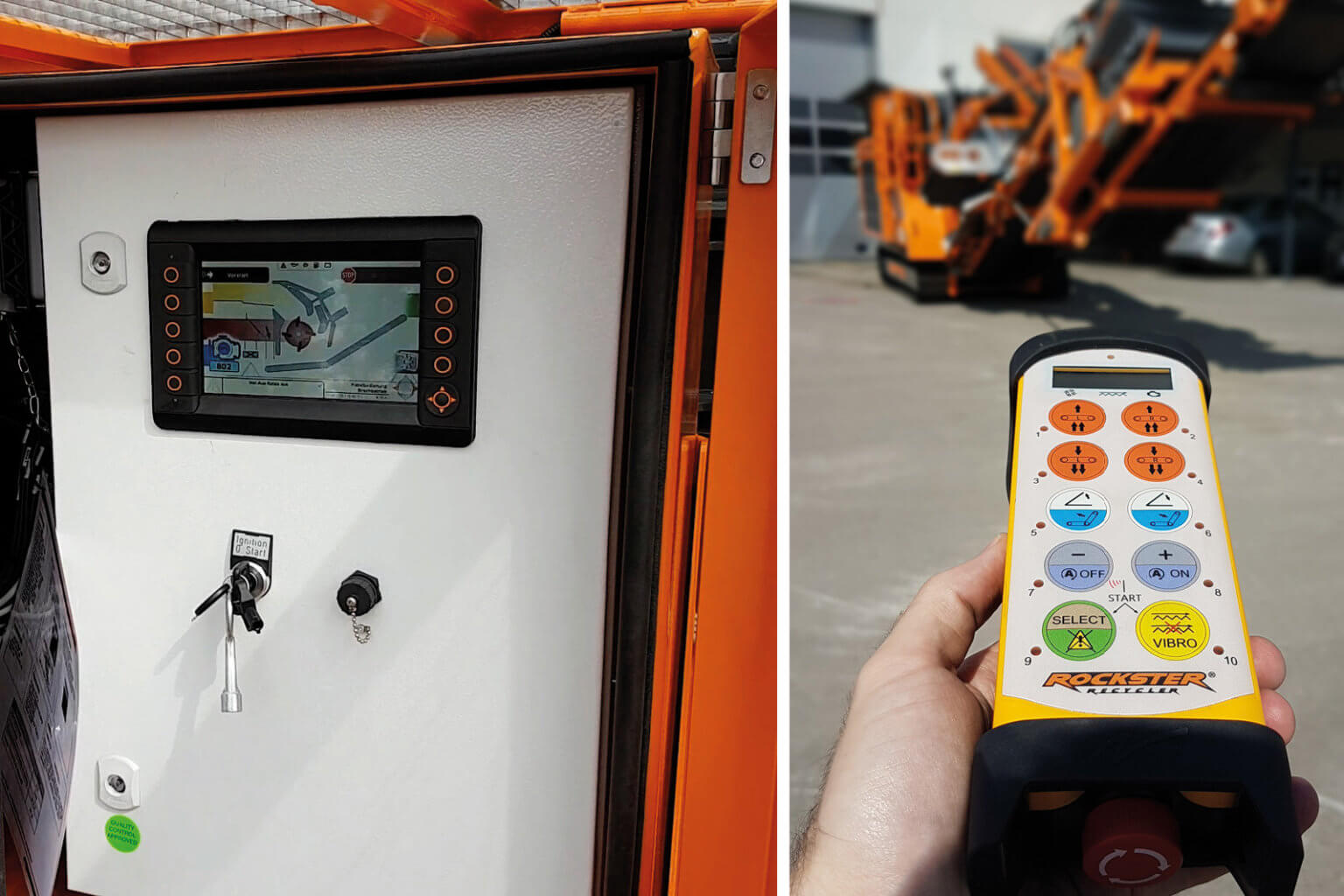 Simple and easy to use crusher through a highly optimized multifunctional display and radio remote control.
Both systems are used for contract demolition work and on our own demolition sites. The 100% defined end-product size of 0/35 and 0/2 is primarily used in landscaping as well as road construction and is exactly what we need," emphasizes Grube.