Efficiency of Rockster R1000S mobile impact crusher in the construction waste center in Blintendorf, St. Veit/Glan, Austria
After renting various mobile crushing plants, GK-Baurestmassen has made a strategic decision at the end of 2021 to invest in the purchase of their own crusher. The choice fell on the tracked mobile impact crusher R1000S from Rockster, an experienced Austrian manufacturer and developer of mobile crushing and screening plants.
Die GK Baurestmassen GmbH ist ein Zusammenschluss der Firmen Gojer, Kärntner Entsorgungsdienst GmbH und Knafl & Co. Gesellschaft m.b.H. Die historische Entwicklung von Gojer reicht bis ins Jahr 1965 zurück, als Adolf Gojer sen. die Grundlagen für das Unternehmen legte. Ursprünglich als Einzelunternehmen Gojer bekannt, später unter dem Namen Gojer, Kärntner Entsorgungsdienst GmbH, etablierte sich die Organisation als maßgeblicher Akteur im Bereich der Entsorgung und des Recyclings. Im Jahr 2019 erweiterte sich die Erfolgsgeschichte mit der Gründung der GK Baurestmassen GmbH (kurz GK) als Tochterunternehmen von Gojer.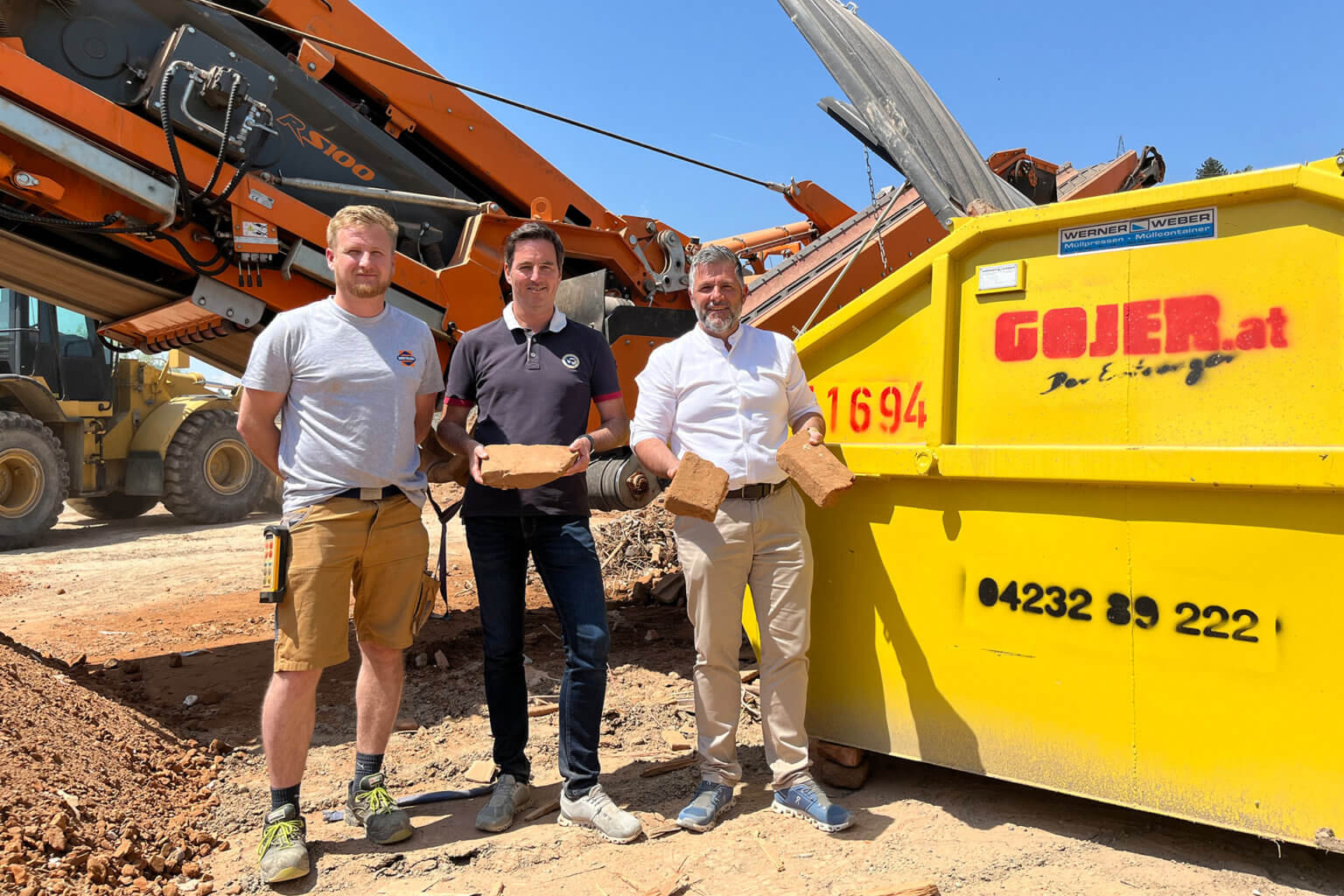 Already on the second day of operation, the crusher's magnetic separator removed this horseshoe – it sure is a sign of a lucky charm.
Both companies play an essential role in the Austrian waste disposal and recycling landscape. Based in Carinthia, in the southern part of Austria, GK acts as a provider of construction waste landfill, soil excavation landfill and it has its own c&d recycling center. The expertise ranges from processing of various construction waste and excavated soil to the production of quality-assured recycling building materials, supported in this case by Rockster's flagship, the R1000S closed-circuit impact crusher. The R1000S has proven itself to be a very flexible and powerful all-in-one crushing solution, especially when it comes to high-quality recycling of C&D waste. This enables GK to further emphasize and put into the foreground the sustainable use of resources.
In November 2021, the tracked mobile impact crusher R1000S was delivered to GK, which was immediately put to a demanding test. Referring to this significant investment, Managing Director Oskar Preinig stated: "The decision to go with the Rockster R1000S was based on its hydrostatic drive and the highly effective closed circuit crushing system. The weight/throughput balance played a central role in our choice and the decision was an easy one."
ALL IN ONE PASS - CRUSHING, SCREENING, SEPERATING NON-AGGREGATE LIGHT MATERIALS
This R1000S model is equipped with a full range of features to ensure the highest quality and clean final products. Highlights include a powerful circular vibrating screen, a double-functional return belt, a hydraulically height-adjustable magnetic separator and an Air Blower for effectively removing light non-minerals such as paper, wood, Ytong, Styrofoam or plastic from the final crushed material. This is complemented by a belt scale with two measuring points.
The Rockster R1000S, powered by a powerful 340HP CAT StageV 9.3 engine in combination with a hydrostatic drive system, delivers consistent and continuous power to process the material effortlessly. The end products produced are used in various areas such as substructure, the cement industry or brick production.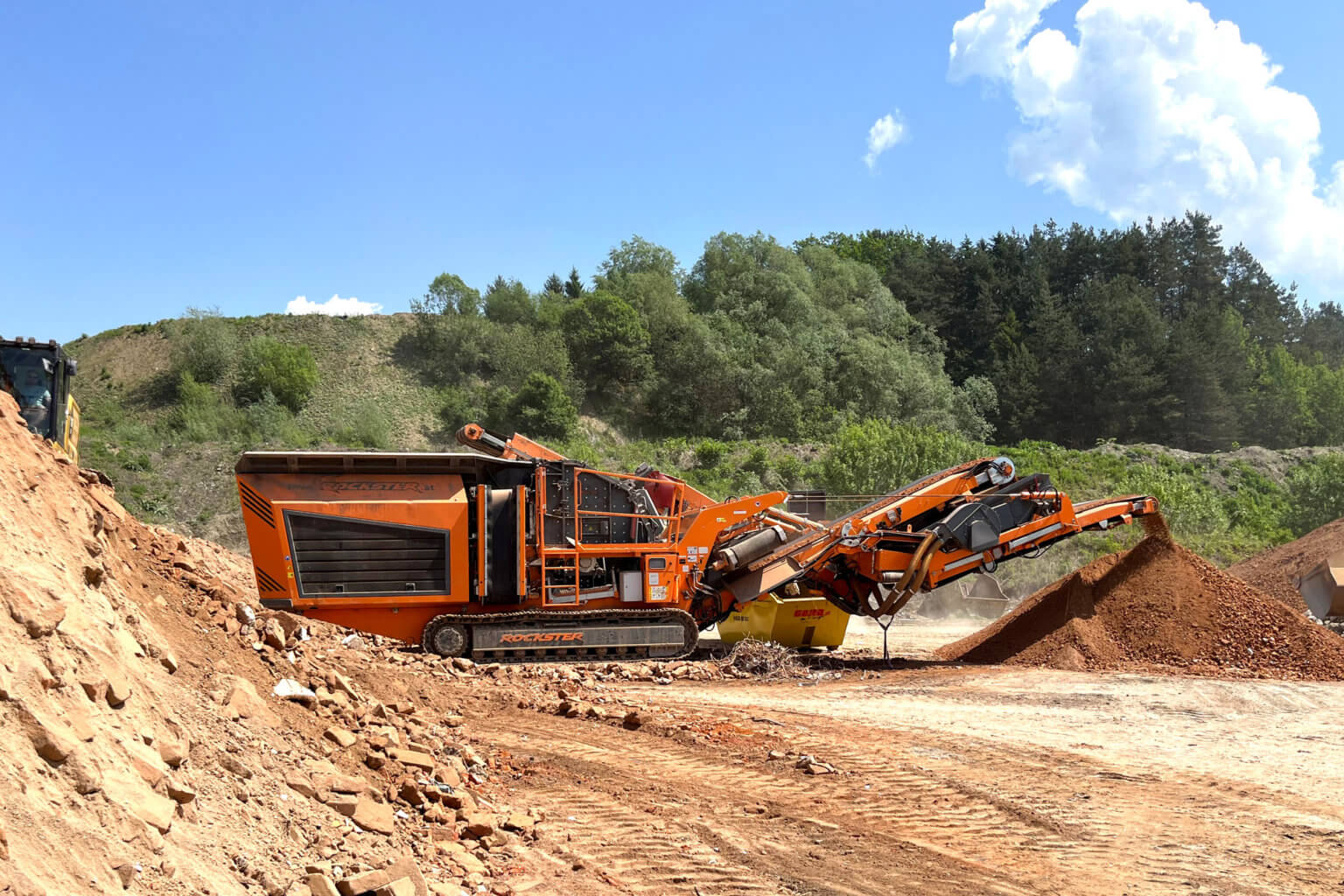 Efficient processing with the R1000S crusher – GK processes an average of 230 tons of C&D waste per hour, producing a clean 0/63mm (minus 2 ½ inch) end product.
USER-FRIENDLY WITH A FOCUS ON EASY MAINTENANCE
In addition to the excellent performance when processing a variety of materials, the R1000S impact crusher is also characterized by its ease of maintenance. Designed with an end-user in mind, the generously dimensioned engine compartment, the machine proves to be extremely accessible for service technicians. The main discharge belt hydraulically folds out and this function allows the operator to conveniently inspect the screen and remove ferrous debris. This also applies to the replacement of the screen mesh, which can be carried out in less than 10 minutes.
Markus Silly, who works as a machine operator at GK, emphasizes: "Daily operation with the R1000S is extremely uncomplicated. Operating Rockster crusher is intuitive, and all the necessary control elements can be conveniently set using a radio remote control. Changing or cleaning the screen is done quickly, which makes my work more efficient and easier." This ease of use and easy maintenance make the R1000S an effective and time-saving solution for GK's operations.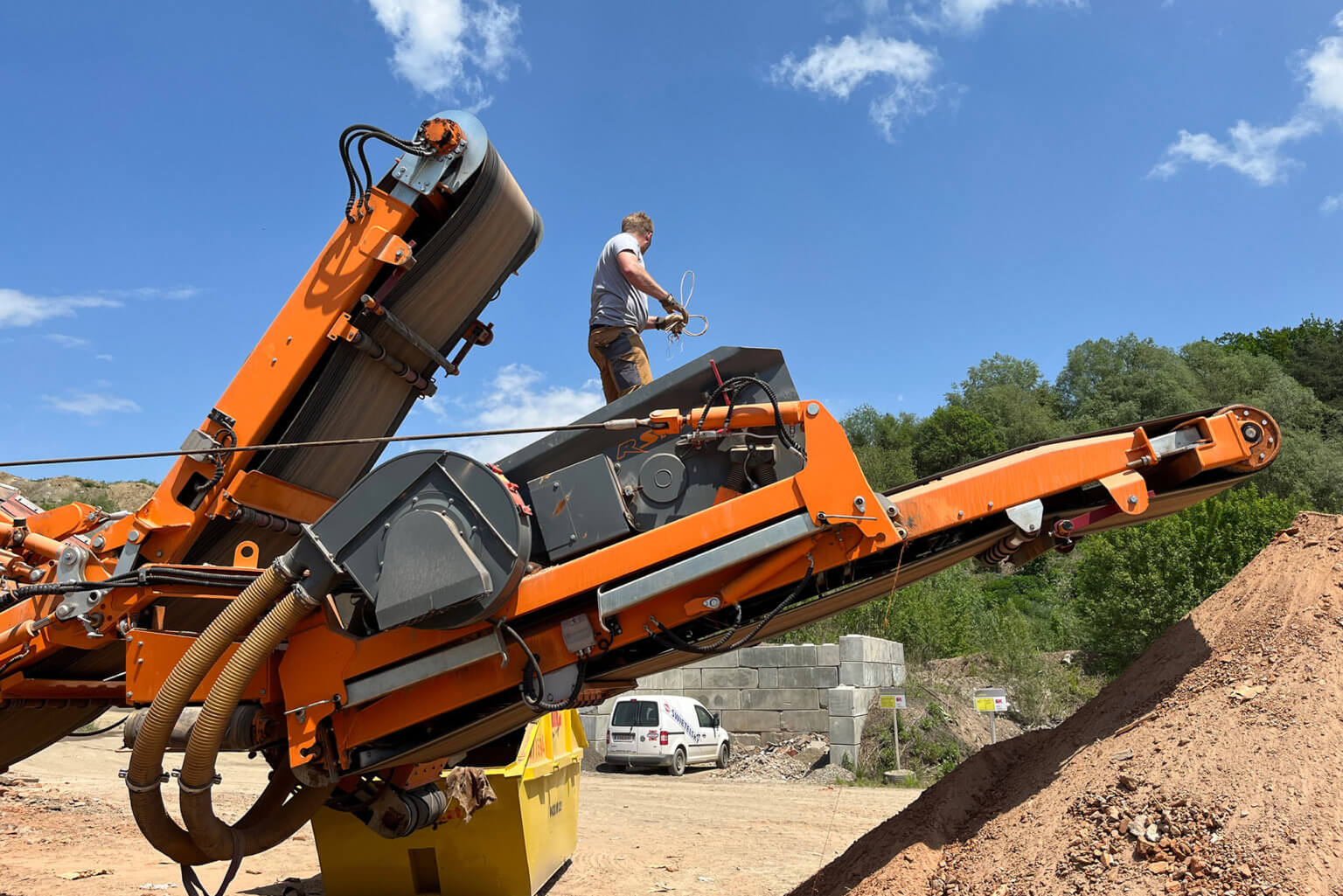 Easier access to the screen box thanks to the hydraulically foldable main discharge belt
The R1000S presents itself as one of the most versatile crushers on the market - a combination of impressive performance and effortless mobility. Thanks to the hydraulically foldable discharge belt, the overall length of the machine is just 14 meters (46 feet). With dimensions of 2.83 meters in width and 3.20 meters in height, as well as a weight of 35.5 tons, use and breaking are extremely uncomplicated.
The remarkable flexibility of the R1000S in terms of transport and operation makes it an exceptional crusher for GK demolition waste. Its compact dimensions allow it to adapt smoothly to a wide range of working environments without compromising on performance.