Within large, yet optimally spaced out 6.6 hectare company grounds, the new Rockster crusher mainly processes asphalt, concrete and construction debris.
R1000S closed circuit impact crusher with a screening system & air blower has been crushing at the Bauhof Deutschlandsberg since the beginning of 2020. It provides valuable services in the production of high-quality recycled building materials.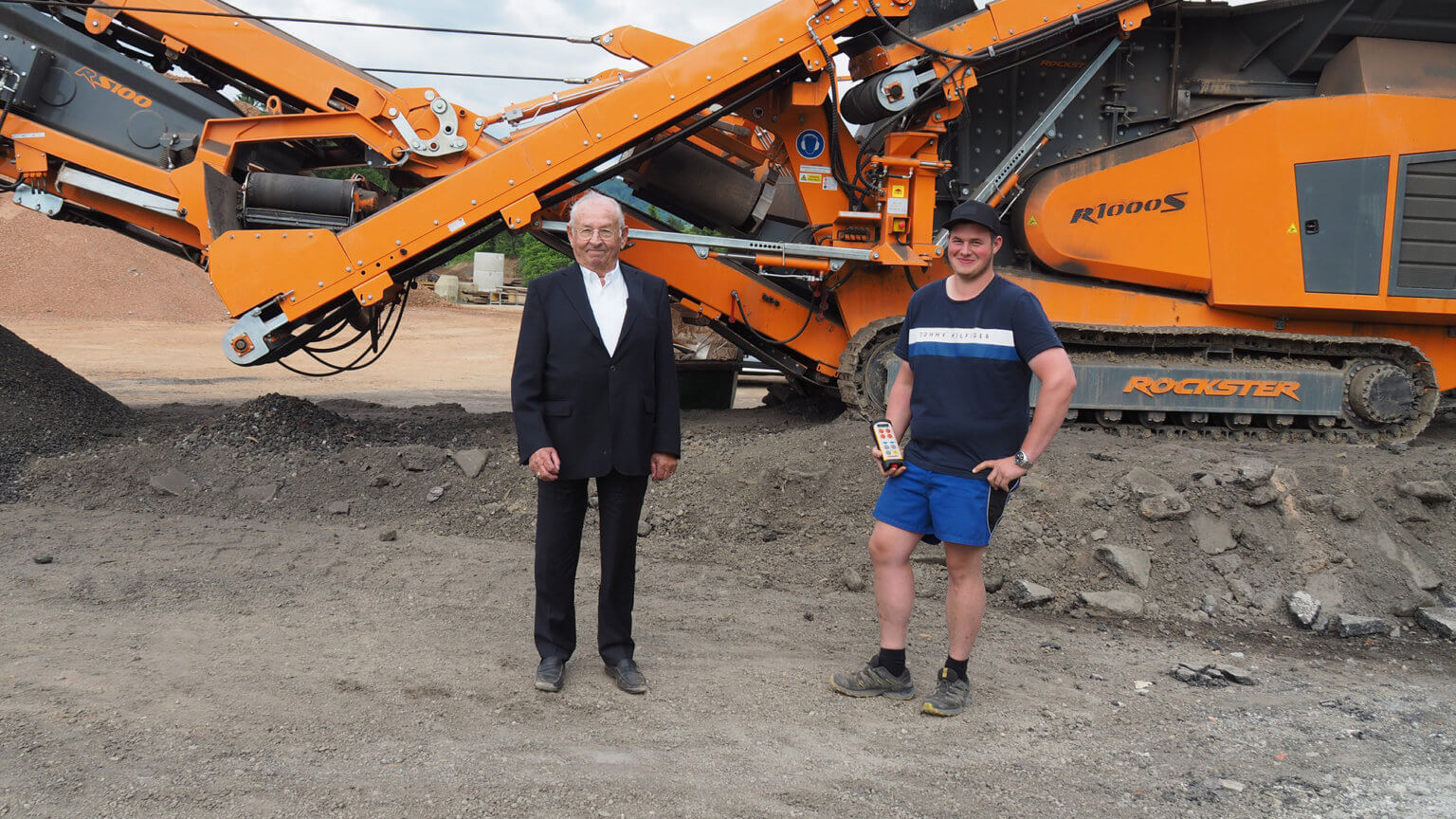 Founder Konrad Pistolnig and machine operator Patrick Höber in front of their own, brand new Rockster impact crusher R1000S.
Demolish - Recycle - Build! Bauhof Deutschlandsberg GmbH has been ensuring the perfect material cycle for 24 years. With a 9-person team and strong partner network such as the transport company Konrad Pistolnig GmbH, Westbeton GmbH and Tiefbau Deutschlandsberg, company's great strengths are building demolition, container services and the recycling of all types of construction debris. On a 6.6-hectare company premises, processed materials are immediately returned to the material-cycle on the construction sites. The processing capacity on the Bauhof site is 80,000 tons per year, which corresponds to a saved landfill volume of 55,000m³. With a recycling rate of 98% - mostly of their own and their partner companies - the maximum "avoidance and recycling before landfill" is consistently implemented at Bauhof Deutschlandsberg. Company founder Konrad Pistolnig senior is convinced: "The management of construction waste is of growing interest for both the construction industry and waste management. Residual building materials that do not end up in a landfill but are returned to the economic cycle as high-quality RC building materials are an ecological necessity."
Especially when processing construction debris, the Air Blower shows its great added value, which enables production of high-quality valuable end-product all in one pass.
New Rockster crusher as a centerpiece at Bauhof Deutschlandsberg
In addition to a trommel screen, excavators, loaders and road rollers, a rented crushing plant is also always in use, which processes approx. 40,000 tons of debris, asphalt and concrete every year. At the end of 2019, the management decided to replace the rented crushing plant with a new closed-circuit impact crusher R1000S from the Upper Austrian manufacturer Rockster. The impactor has been the company's new recycling centerpiece since January of this year. "With our R1000S we have already produced 16,000t of concrete 0/80, 8,000t of asphalt 0/18, 600t of wall ballast 0/16 and 500t of construction debris 0/20. We are extremely satisfied with the quality of the end-product. The mixture of coarser and fine grain is just right for further use in the concrete mixing plant or on construction sites," says Pistolnig. Rockster's hydrostatic crusher drive is particularly responsible for the sizes of the final product to be precisely adjusted to the desired quality.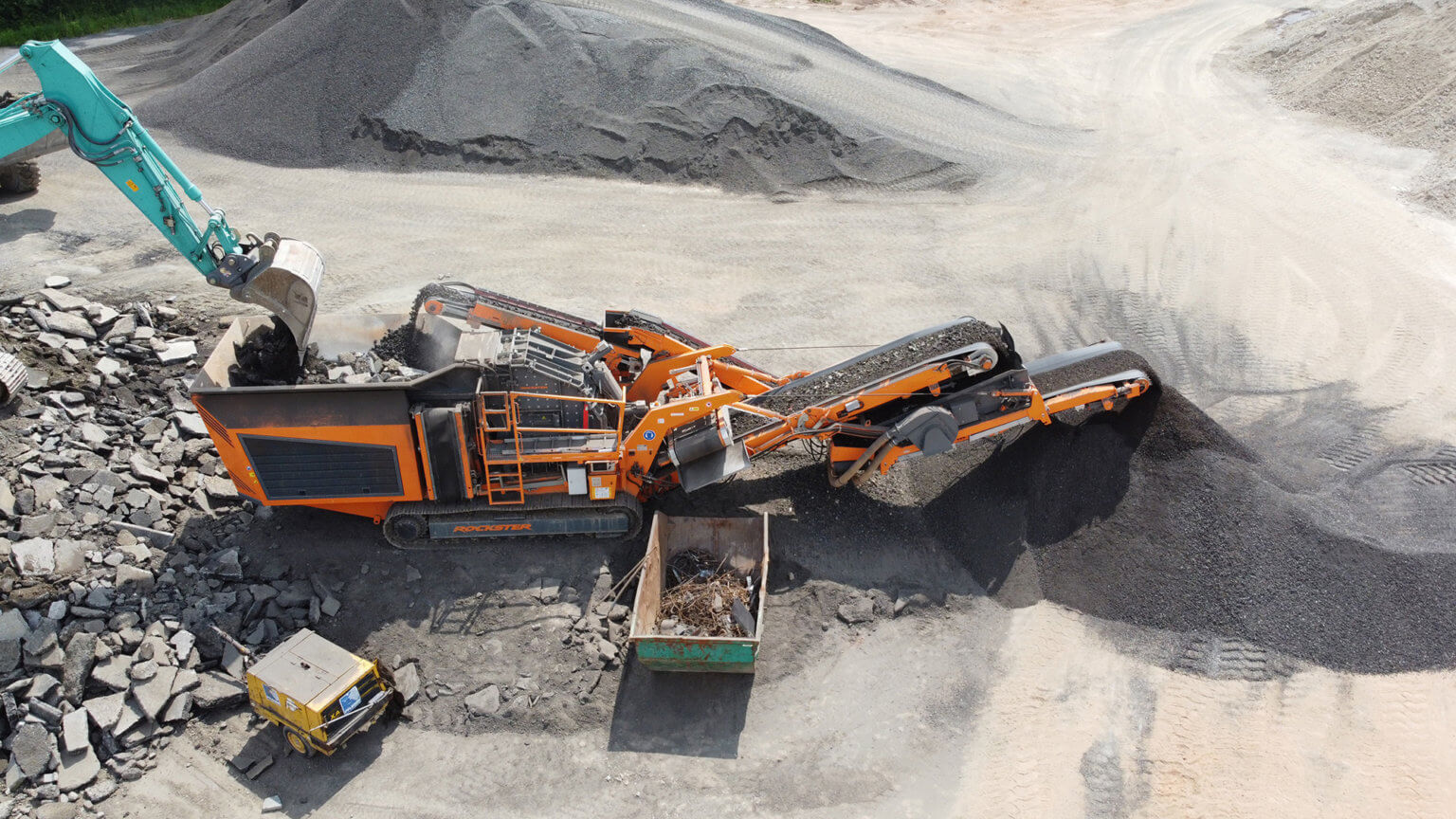 With his Rockster R1000S, machine operator Patrick Höber, crushes 110-120t of asphalt per hour for end-product size 0-18mm.
Air blower and magnetic separators were important decision criteria
In order to guarantee high quality of the end-product in one workflow, three points were decisive for Bauhof Deutschlandsberg:
• Screening System for a precisely defined size of end-product
• Magnetic Separator for removing iron and other metals
• Air Blower for separating non-aggregates such as polystyrene, wood, plastic, paper and similar.
"To be honest, we were surprised at how well the Rockster Air Blower works, especially when it comes to recycling debris, it brings a huge increase in efficiency," says Pistolnig enthusiastically. Machine operator Patrick Höber particularly appreciates the simple and quick handling of the R1000S crusher: "The crusher is powerful and easy to use, I set the crushing gap on the display and the rest I do from the excavator with the remote control. Replacing the screen deck is also very simple, everything is done in 15 minutes."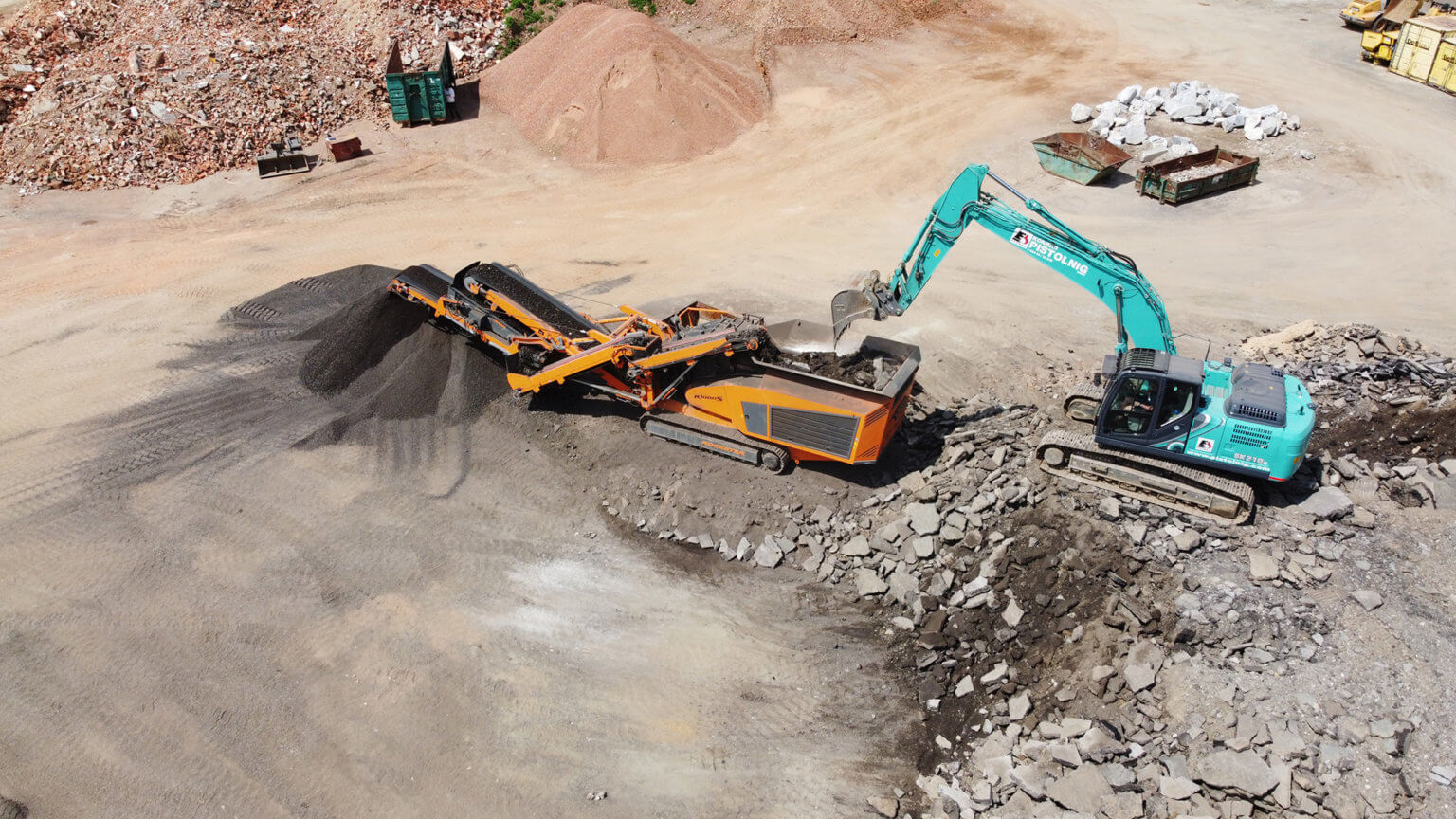 R1000S, with a crusher inlet opening of 960x720mm, has already produced a staggering 8.000t of high-quality recycled asphalt 0/18mm at Bauhof Deutschlandsberg.
Increase in the Contract Crushing Business
Thanks to the compactness of the Rockster crusher, the contract crushing business can also be expanded now. Well-known customers such as Granit Graz, Porr or Swietelsky, as well as private customers, have already rented the R1000S and were extremely satisfied with both ease of handling and the quality of material. "The use of recycled materials is becoming more and more demanding and also brings some advantages to the construction company. You can save money, conserve natural resources and still use high-quality building materials. Crushed asphalt, for example, binds better than gravel due to the bitumen content and is an optimal surface for road construction. Recycled concrete is frost-proof and an excellent base material. Our recycled building materials are subject to constant control measures and the entire cycle is documented," explains Pistolnig.