Rockster R1000S mobile track-mounted impact crusher next to a stationary crusher at the Kober Gravel and Recycling Center in Mistelbach, Austria
After almost 20 years of experience in recycling and processing material with a stationary crusher, Kober Transporte GmbH decided in the middle of this year to invest in a brand new, track-mounted mobile Rockster R1000S impact crusher. The crusher will optimize their daily work load and most importantly produce a clean and high-quality end product.
Established company, Kober Transporte GmbH is currently represented by the 3rd generation under the management of Mag. Anna Kober. Family company with a true tradition has its headquarters in Stronsdorf in lower Austria. With more than 70 years of experience and 60 committed employees, Kober Transporte is a reliable, modernly equipped provider in the areas of transport, earthworks, demolition and recycling. With their own excavated soil dumps and their special know-how with agricultural transports and construction site supplies as well as the wide range of vehicles they use, they stand out from many of their competitors.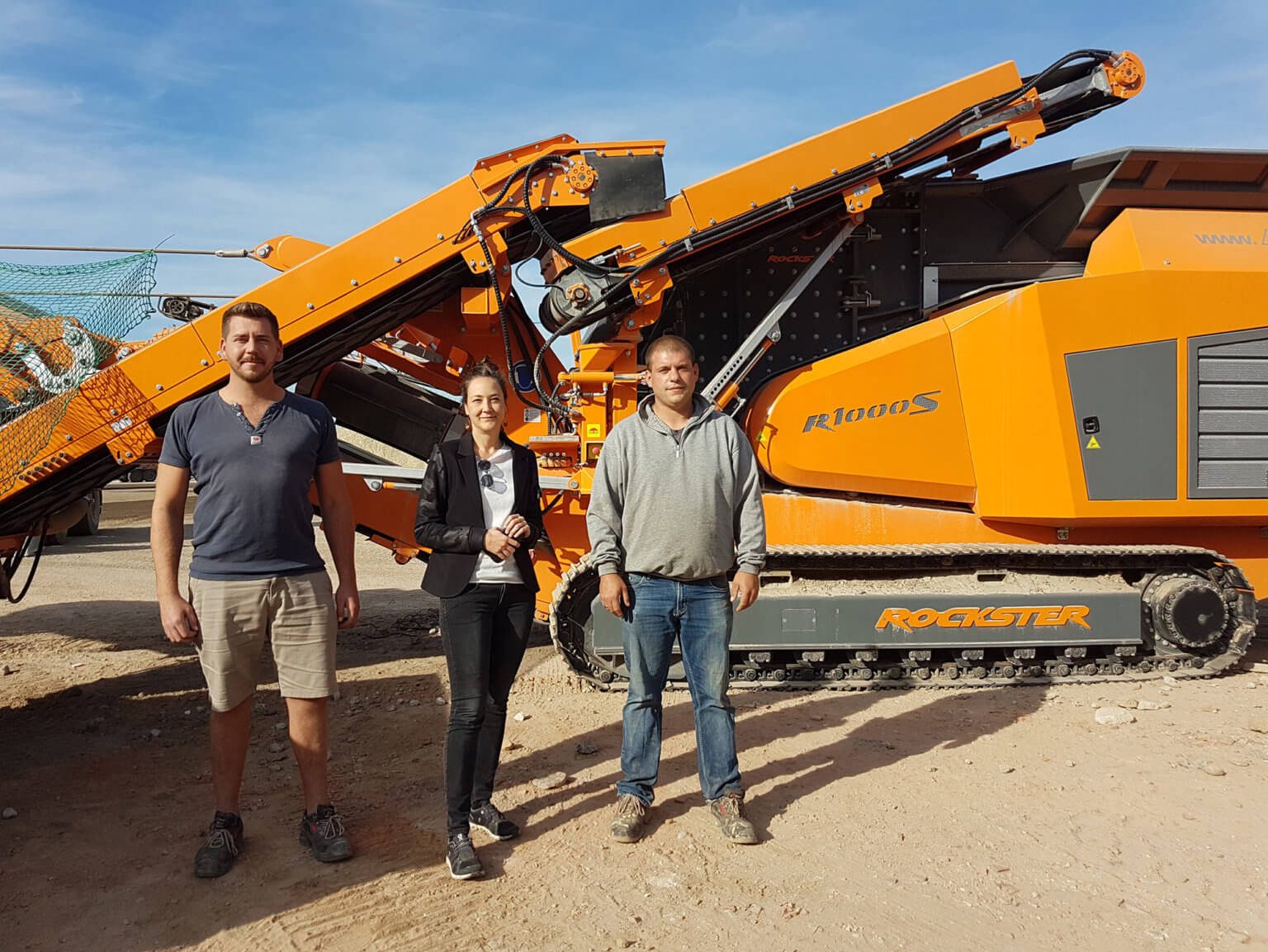 (from left to right) Machine operator Josef Kraft, CEO Mag. Anna Kober and machine operator Thomas Rathbauer in front of their brand new Rockster R1000S
Located in Mistelbach, Austria, Kober Transporte has its own recycling center where quality-certified, high-quality sand, crushed stone, grit and recycled materials are produced for both large deliveries and small-volume need. Mineral building demolition waste, asphalt and concrete are mainly recycled here. This is exactly where the Rockster R1000S has found its new home. "The main decision to invest in a Rockster was made mostly by our team of machine operators and a workshop manager. They have to work with the crusher and they play an integral role in the decision-making process. Above all, they were very satisfied with how easy it is to operate the crusher and that was certainly the decisive criterion. And of course also that the features we wanted, such as the Air Blower, were immediately available," emphasizes CEO Anna Kober.
Integrated Air Blower for even cleaner high quality final material
"We have certainly tested 4 or 5 different mobile crushers and for us the whole Rockster package was tailored exactly to the needs of our company. The hydraulic system is very user-friendly and familiar, which we prefer in comparison to electric, because we simply have more experience in this area. Stepless regulation of the crusher speed allows us more control while recycling different materials, the height of the magnetic separator is hydraulically adjustable, etc. These are just a few of the advantages of this crusher. Not to forget, of course, the air Blower. It works flawlessly and blows away light material such as wood, plastic, textiles or Ytong parts in one operation, nobody has to remove it by hand. This light material is collected directly in a container - surrounded by a net - and can then be disposed of. Our material simply has to be clean and the Air Blower is the optimal, very efficient solution for this," says workshop manager Peter Schmid. Crusher operator Thomas Rathbauer is just as enthusiastic about the Air Blower: "It's a dream. Even aluminum goes away." "It is important to us that the recycled material is of top quality and looks good, so that customers have the feeling that it is valuable building material that are getting, which indeed it is," says Kober.
"Uns ist wichtig, dass das Recyclingmaterial top Qualität hat und auch gut aussieht, sodass die Kunden das Gefühl haben, dass es wertvolles Baumaterial ist, was es ja auch ist," so Kober.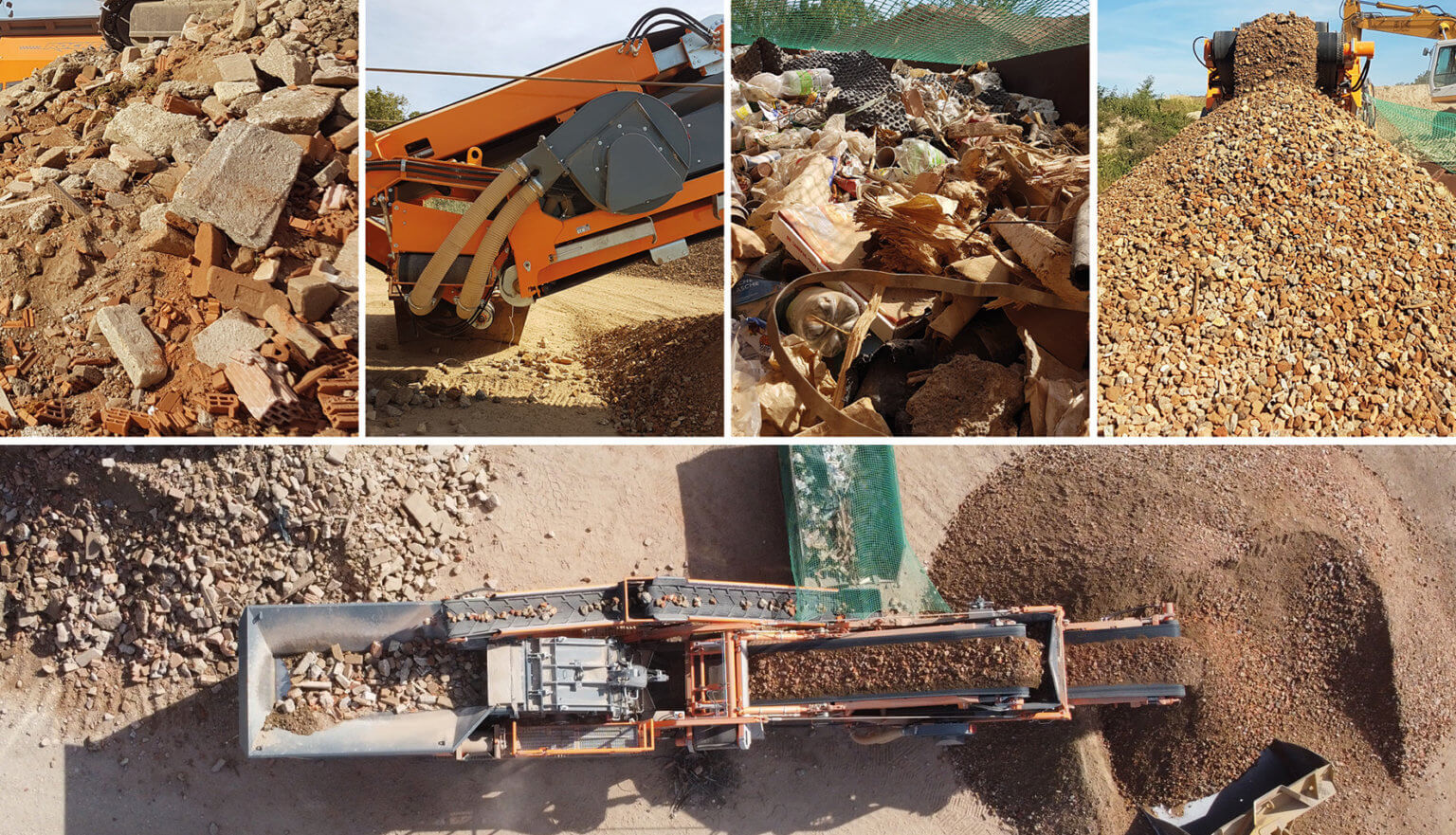 With the integrated Rockster Air Blower light non-aggregates are blown away directly into the container.
Increased mobility
"After 20 years with the stationary crusher, this is our first mobile crusher. We are now a lot more flexible than before, especially with various demolition projects where we can bring the crusher and recycle on the spot, "says Kober enthusiastically. The Rockster crusher R1000S is easy to transport and with the hydraulically foldable screenbox discharge belt, the length of the system is only 14.00 m. With a width of 2.83 m, a height of 3.20 m and a weight of just under 35t it is in his Weight class one of the most versatile crushers on the market and on top of that, it can be transported with the company's own truck without any transport permits.