For Koppitz, the R900 impact crusher is the ideal machine for his construction waste processing projects.
Holger Koppitz from Saxony, Germany has been using Rockster crushers for last 9 years and as a specialist in processing construction waste, he knows exactly what is important in terms of the machine and its handling.
In 2010, Koppitz started his own contractor business, "Bauschutt Brecher GmbH" that specializes in Recycling of Construction & Demolition Waste and is based in Visselhövede in the Northern part of Germany. "I invested all of my savings in a mobile Rockster impact crusher because I was convinced that this machine will meet my expectations," he says. Meanwhile the company has gained a lot of regular customers and the impactor crushes more than 200,000 tonnes of demolition debris and concrete every year.
R900 is Number One in Performance
His first R900 crusher has worked over 7,000 hours under tough contractor-based operations and has now been recently replaced by the brand-new model. "The main argument for another Rockster impact crusher was the unbeatable output. I also tested equipment from other manufacturers, but in case of crushing performance this machine is one step ahead of the others. In relation to the specific jobs, Rockster offers countless settings where the parameters can be adjusted to get the most out of the impactor. Once these settings have been saved, the operation is very simple: Turn the key – get on the excavator – press the Start-button twice and get started, " Koppitz explains.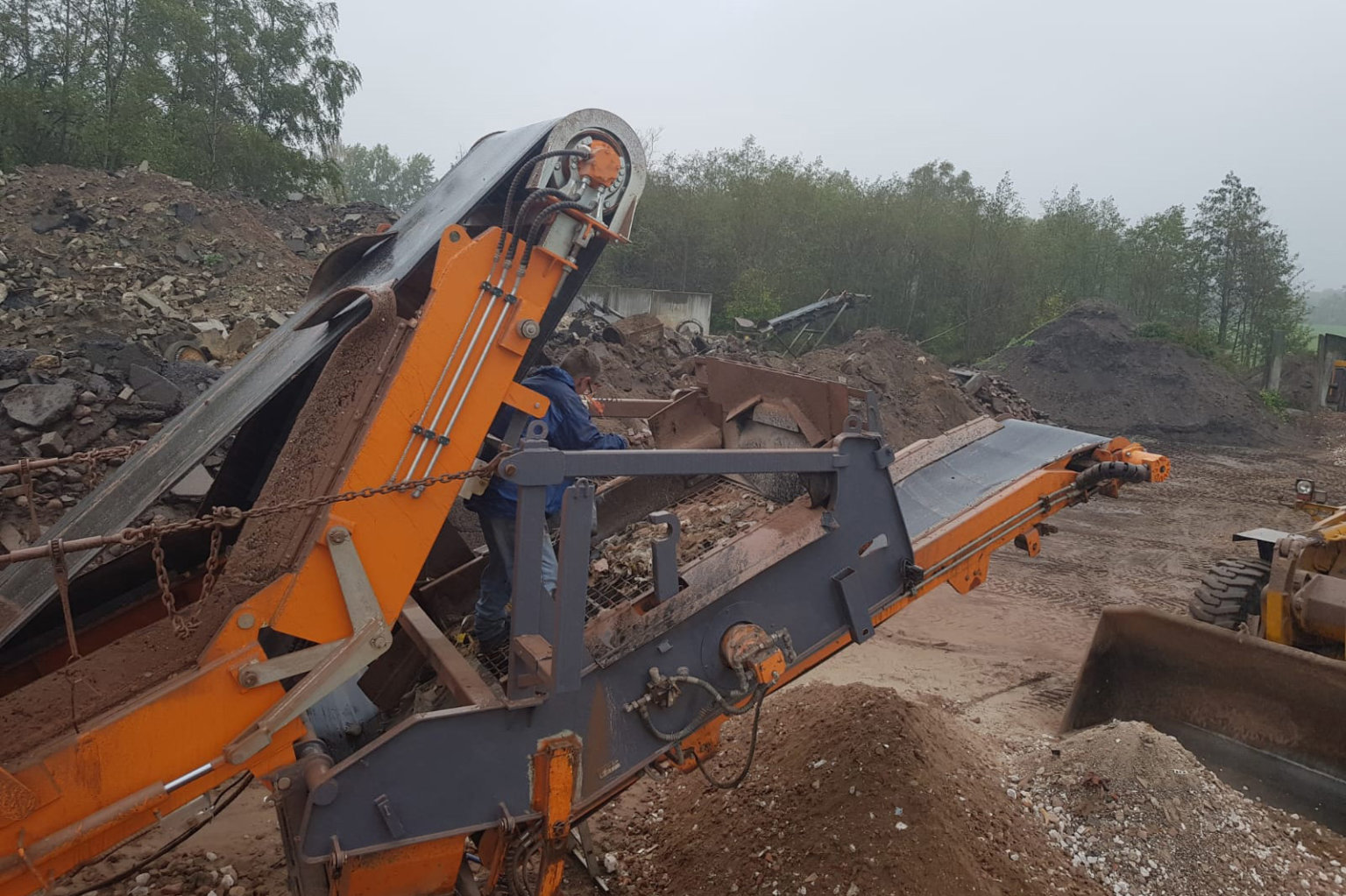 Lowerable and foldable newly redesigned screen box saves enormous amounts of time during operation & maintenance.
Optimized screen box is a real time saver
In order to save time during replacing or daily cleaning of screen meshes, Koppitz needed an efficient solution for this time-consuming task. Because customers come first, Rockster engineers went to work and redesigned the RS83 screen box. They made it lowerable to the ground, like all of the other RS100 screen boxes. The main belt can be lowered during operation and folded up. This allows cleaning and changing of the screens in an upright position. "That was no brainer, the return of investment for the additional expense was only 3 months", states Koppitz.
Little things go a long way
For every problem there is a solution and so it goes. "On my way between the car and the crusher, whether it was early morning or late at night, I have been losing a lot of flashlights. Sometimes I would find them in the rubble, but it would be too late. So, I decided to purchase the "Coming Home / Leaving Home" module. Additional headlights and LEDs are installed onto my crusher, which can be turned on by a small remote control on my keychain. This way, the entire area around the crusher is fully illuminated just by the push of a button," says Koppitz. To further optimize his one-man operation, a rear camera has been installed onto the crusher, which adds an additional view from the excavator.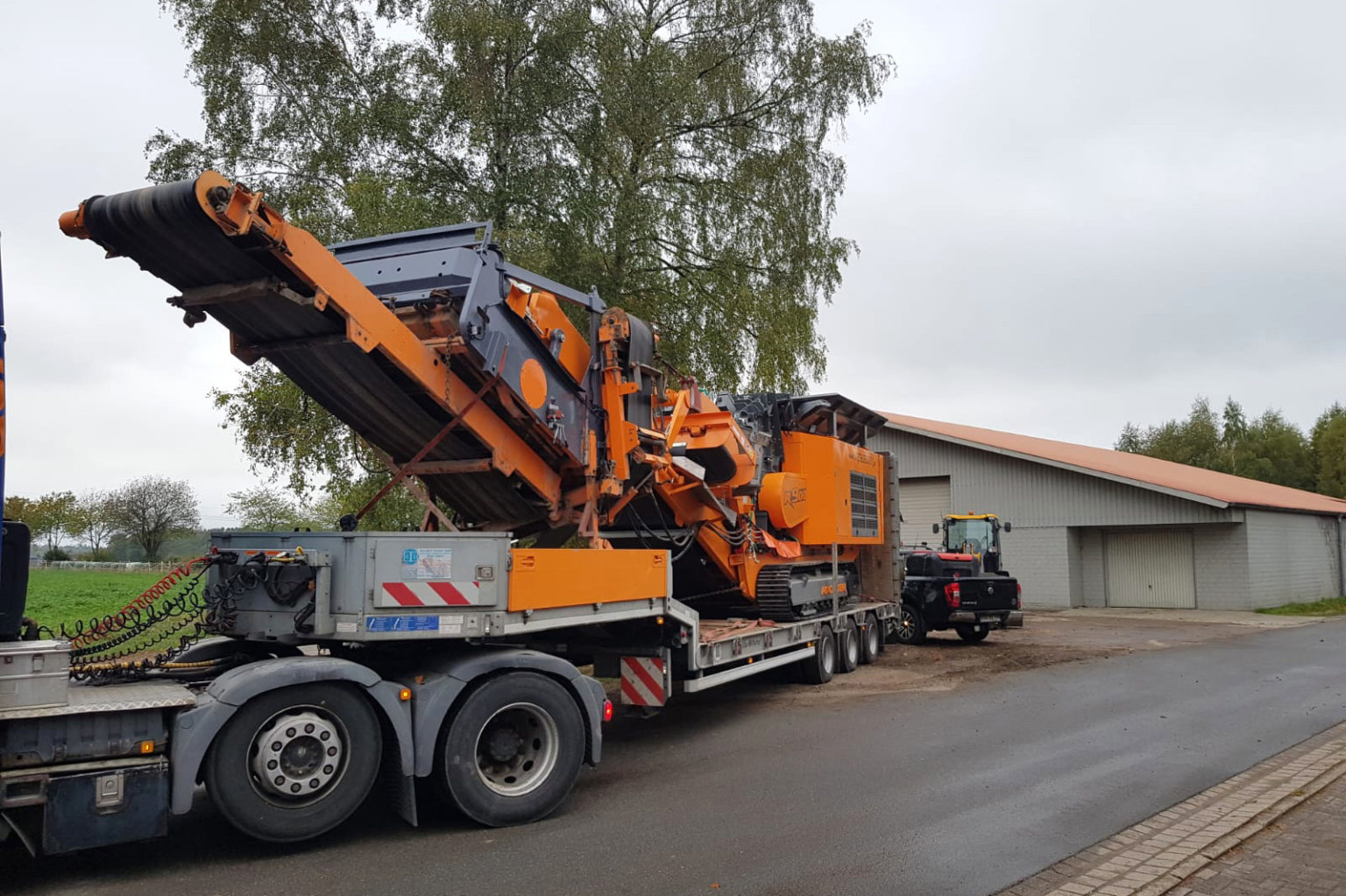 99% of Koppitz's projects are located directly at the customer. Therefore, due to optimal transport measurements of the R900, moving from A to B is done with ease.
Unwanted dust
During demolition and recycling projects in populated areas, dust is an important issue, hence devices for dust suppression play a crucial role in keeping the area as clean as possible. Koppitz can transport water through an additional irrigation valve, into the crusher chamber, the crusher outlet or to the main discharge belt. As soon as the vibrating chute switches off, the water supply also stops. "In my projects, the final end-product is most of the time reused immediately. That's why customers prefer to have it slightly damp in order to be able to perfectly reuse it."