RST 20
Tracked mobile stacker

9,90
Max. discharge height /
32'4"
28,660 lbs
13,00 t / Weight
Compact stacker for increase of production capacity
Tier 4 Final / STAGE V Engine - 35,5kW / 45PS

Belt cleaner

Impact bed at feed hopper

Optimal transport dimensions

Fuel-efficient system

European hydraulic components

Lever-operated controls

Hydraulic folding conveyor

Short set-up time
The very robust and compact Rockster stacker RST20 can be quickly loaded and put back into operation. The operating costs are significantly lower compared to a wheel loader and the CO2 emissions are a minimum. It has been designed for use in combination with screening machines as well as crushers and enables impressive production capacity while reducing material handling costs. The RST20 stacker creates large, conical and radial stockpiles, thus supporting the crushing and screening plants to significantly increase daily production capacity. It can be ordered with tracks or wheeled, so the customer can choose the best option for the particular terrain. The mobile conveyor RST20 hydraulically folds and is operational within 10 minutes after delivery.

Technical refinements for an optimal crushing process
Central machine control with a fully authomatic monitoring
Sophisticated and easy-to-use multifunctional color display with various quick start functions (Different settings for a variety of applications)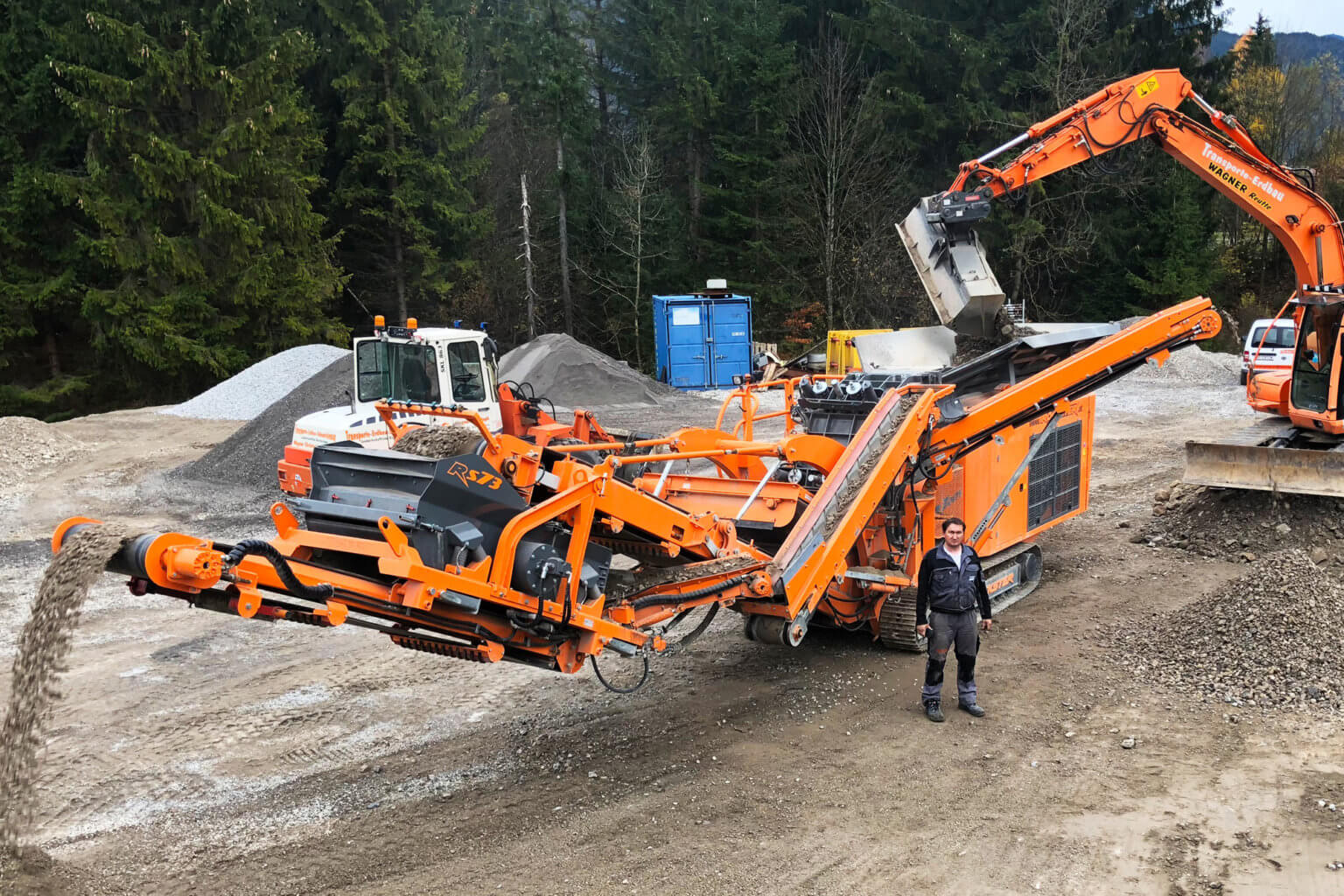 RS73 Screen box and RB65 double-functional return-/ stockpile belt
Optimal option for production of 100% defined end-product
Radio remote control

3,4m wide boot feed for extra load

Rubber padded tracks



Key facts & Performance

| | |
| --- | --- |
| Performance: | up to 450 t/h |
| Max. feed size: | 100 mm / 4" |
| Main belt length: | 18,30 m / 60' |
| Belt width: | 900 mm / 36" |
| Min. discharge height: | 4,30 m / 14'1" |
| Max. discharge height: | 8,90 m / 29'2" |
| Feed hopper capacity: | 1,5 m3 / 1,8 yd3 |
| Drive unit: | Tier 4 Final / STAGE V diesel engine |
Transport Dimensions
Working dimensions
Brochures & Product description