Rockster was founded in 2004 by Wolfgang Kormann and supported by Norbert Feichtinger as a partner from the very beginning. In 2023, at the beginning of its 20th business year, the company can look back on a successful development as one of the leading providers of mobile compact crushers.
Driven by innovative ideas, Rockster was able to manufacture mobile crushing plants with more efficiency, flexibility and with more economical with unique technical solutions. Customers in over 50 countries have already been convinced of the quality and performance of the products.
With the serious illness and unexpected death of company founder and managing director Wolfgang Kormann in April 2021, Rockster had to restructure itself. With the takeover of the management and as a result of the company, by the previous authorized signatory and sales manager Norbert Feichtinger, the stability and continuation of the company could be secured.
As the new managing director, Norbert Feichtinger has invested heavily in a new strategic orientation and the definition of clear future goals for the company, with a focus on continuous, solid growth while taking into account Rockster's core values such as partnership, efficiency and competence.
"If the focus is on working in partnership with customers, suppliers and employees, than Rockster's success will be secured and multiplied. Innovative and powerful products as well as solutions that focus on the highest product quality and reliability, combined with the best possible service, are the basis for achieving future goals. Teamwork the core value in order achieve goals faster, better and with joy," says Managing Director Norbert Feichtinger.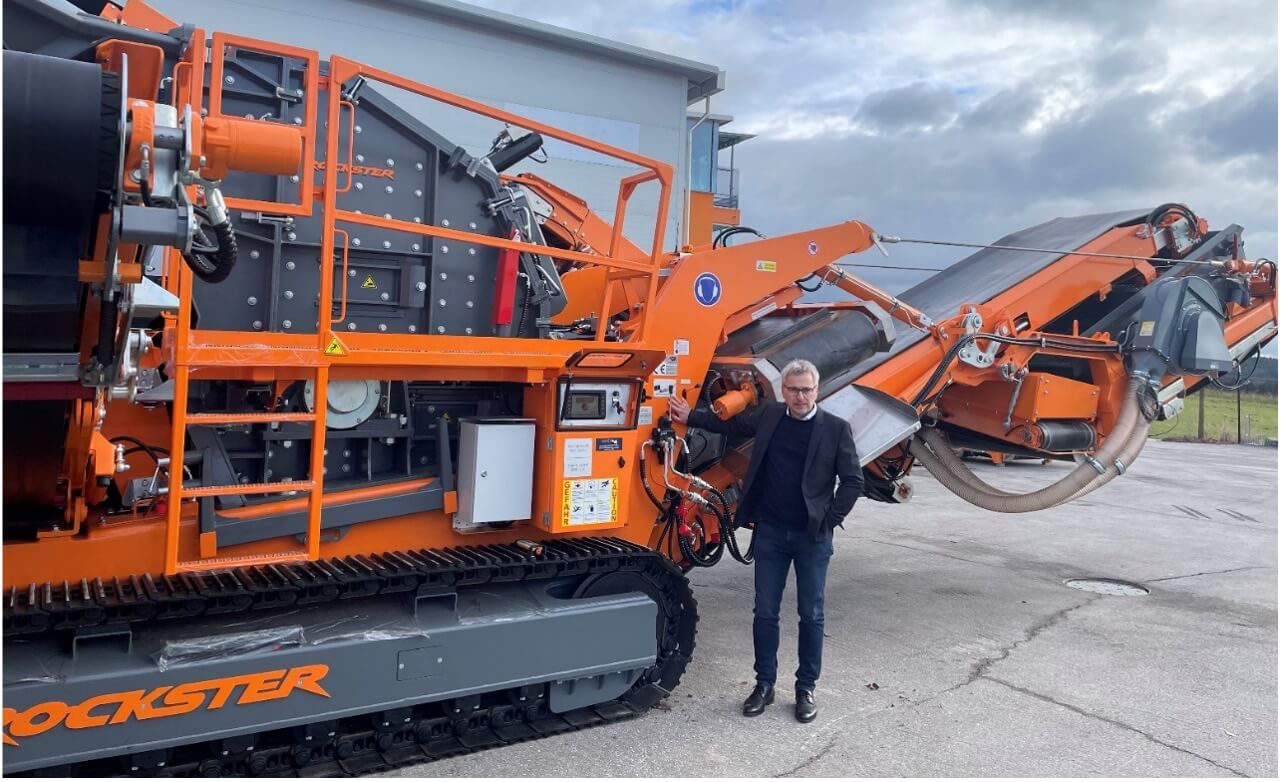 CEO Norbert Feichtinger in front of the tracked mobile impact crusher R1000S
In this sense, Norbert Feichtinger is pleased to welcome two long-standing industry experts as part of the Rockster management team. As corporate partners, they will help shape Rockster from 2023 and make it fit for a successful future.
As the second managing director, Thomas Hagspiel will focus on managing and supporting production and technological development. With more than 25 years of experience in production and product development, construction machinery as well as in crushing/screening business, his extensive expertise will help to further develop and secure quality, capacity, efficiency and technical standards for Rockster.
"Thomas is someone who can take our production to the next level," says Feichtinger.
Florian Klenk will complement the management as a new sales manager, with over 15 years in the international sales of construction machinery, recycling plants and crushing and screening plants. With his know-how and wide range of experience in various markets, he will manage, support and further develop sales.