Rockster impactor R1100S in Mayrhofer's limestone quarry in Salzburg, processing up to 650mm stone to 0-45mm final grain.
Thanks to the excellent performance of their R1100D impact crusher, which was acquired in 2016, company "Mayrhofer Erdbewegungen GmbH" from Neumarkt am Wallersee (Salzburg) purchased the advanced model R1100S from Rockster Austria International GmbH.
The Austrian company specializes in earthworks, demolition, recycling, transport and the recycling of construction waste. With about 20 employees on board, "Mayrhofer Erdbewegungen" takes on every project regardless if small private order or a huge commercial task. Three years ago, Mayrhofer added a Rockster impact crusher R1100D to his modern fleet of 10 trucks and more than 30 construction machines. "In 2016, we were looking for a reliable and powerful crusher because our demolition and recycling business has been growing fast. After testing a few machines from different manufacturers and checking Rockster references, we decided to purchase the R1100D. It was simply the right machine for our needs when it comes to crushing rubble, asphalt and limestone, "says business owner Josef Mayrhofer.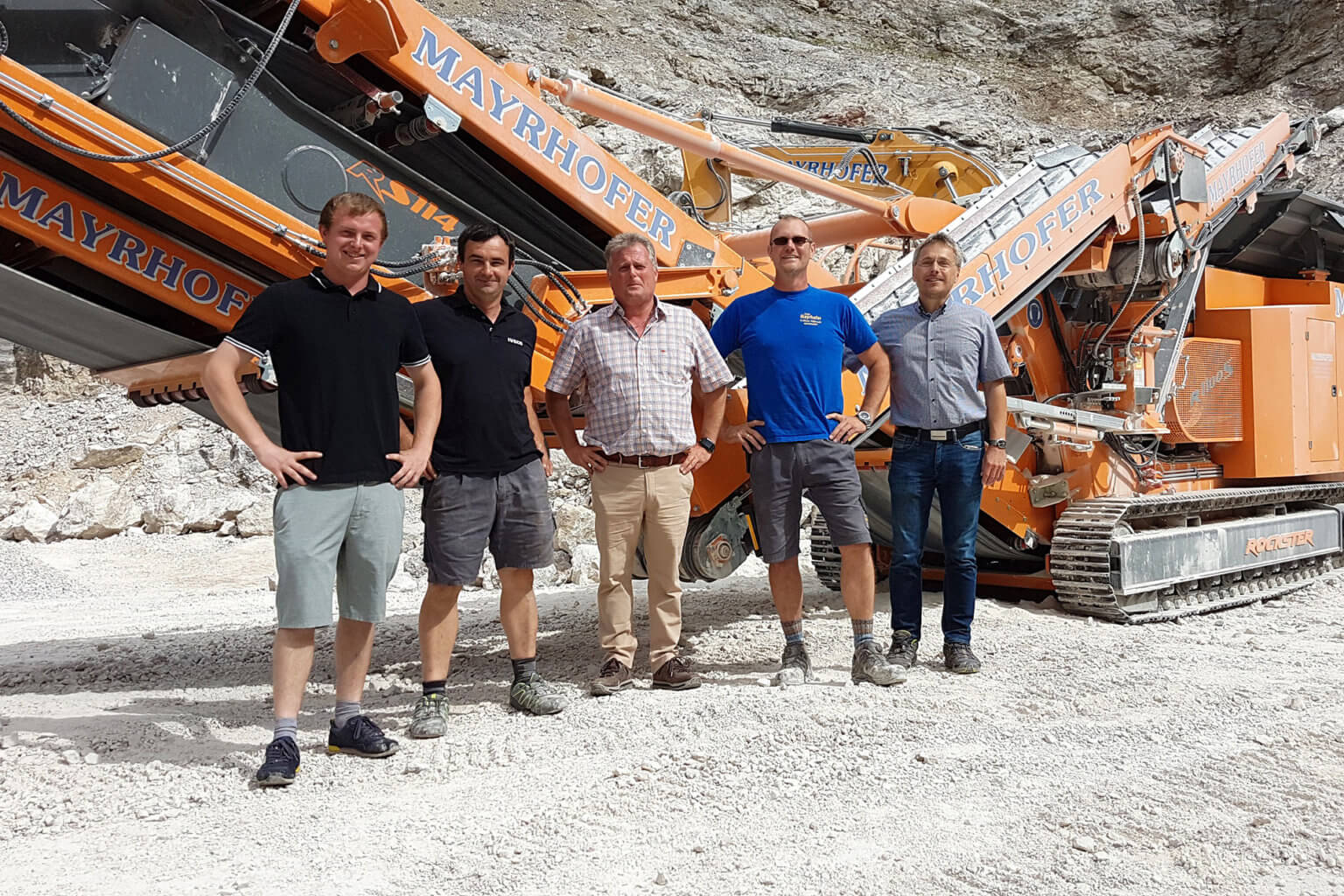 Mayrhofer Erdbewegungen Team and Rockster's Sales Manager Norbert Feichtinger in front of Mayrhofer's brand new R1100S.
New Impact Crusher R1100S including a Screening System
When it comes to crushing & screening machinery, Rockster is always striving towards improvement with customer solutions always in mind. This makes it a good reason for a new investment. The size of the R1100S crusher is similar to the R1100D, however it is equipped with the latest features such as: improved emissions, state-of-the-art engine technology and the sophisticated screening system with return and stockpile function. This being said, the new R1100S guarantees an ecological added value and increased efficiency. With a transport height of 3.2 meters (10' 6"), the impact crusher can also be transported quickly without special permission. "Especially for processing limestone, we like to produce an additional fraction of 45mm/x (1.77"/x). The convenient return / stockpiling solution enables a quick and easy change of the setup", says Mayrhofer.
Use of the return belt as stockpile belt, producing a further final fraction.
Sustainable for the generations to come!
Demolition waste and old asphalt are recycled on site, as well as on the 10,000 m² processing area at the company's headquarters in Neumarkt. Almost 100% of the recycled material is used for their own building and civil engineering projects. The Rockster crusher is working up to 500 hours a year with an output of about 130,000 tons of material. "Our Rockster R1100S produces about 250-300 tons of final grain 0/45 (0/1.77") per hour. The recycled concrete is mainly used as a frost buffer in civil engineering and road construction. Recycling material from building waste is mainly used for fillings. Thanks to the good cubic grain produced by the impact crusher, the quality for further processing is excellent, " explains Mayrhofer. In one of Mayrhofer's largest projects, at Isocell, a company that puts great importance on sustainability and the conservation of resources, recycling material was used to a large extent in the construction of the company's headquarters. "Instead of depositing numerous tons of demolition waste, we use our Rockster crusher to create new value grain, which we use in various construction projects. That's how I imagine a sustainable material cycle, " the entrepreneur adds.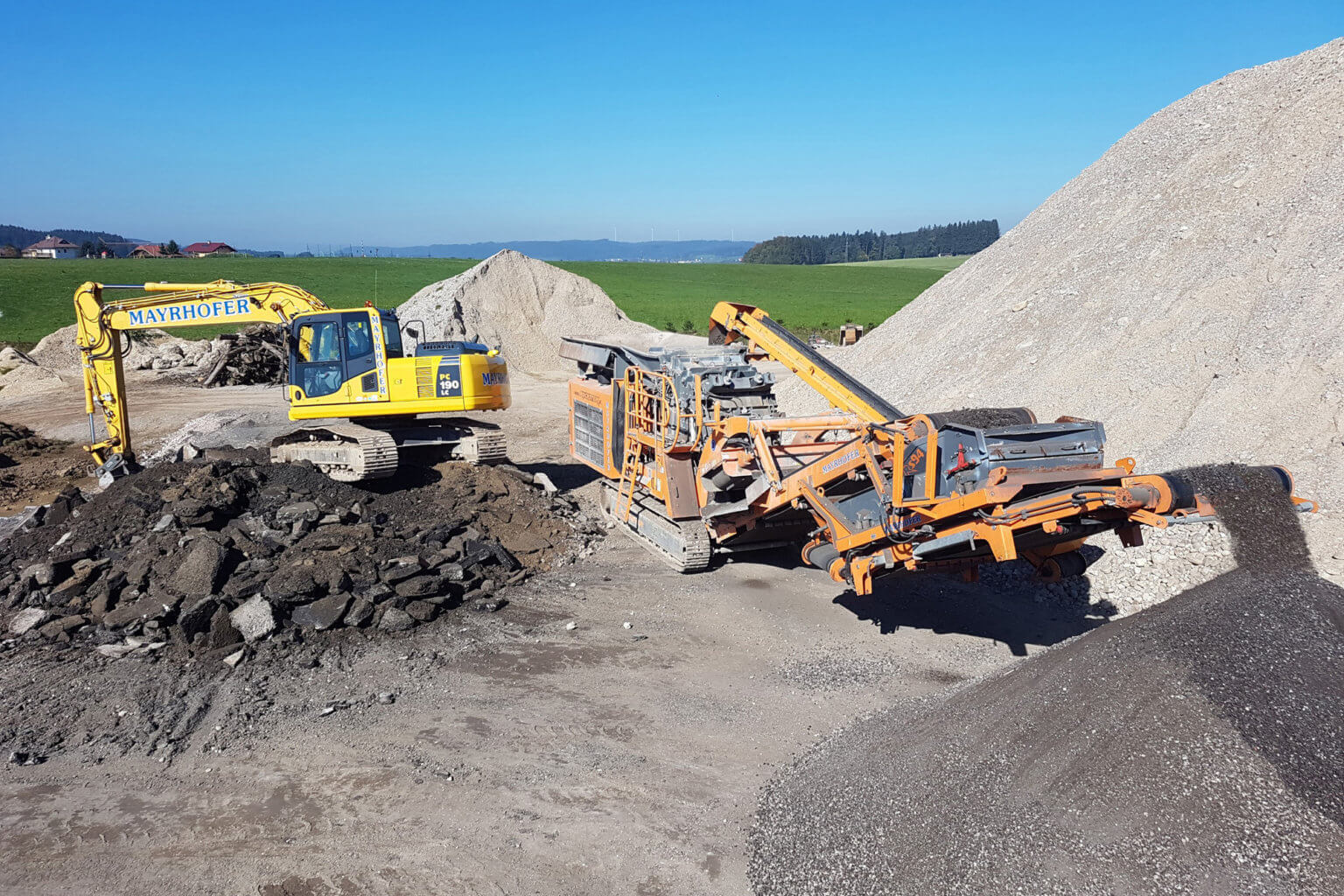 Asphalt Recycling to a final grain size of 0-32mm (0-1.26") at the huge recycling area at Mayrhofer's headquarters in Neumarkt.